Our Mission Statement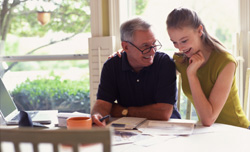 We are committed to helping you manage the risks that arise in everyday life. If the unexpected strikes, we will do everything we can to help you recover your quality of life as soon as possible. We are guided by highest standards of integrity and professionalism so you can be sure that our recommendations will help you obtain the best insurance coverage for your unique circumstances, in the right amount and at a price that fits your budget.
We understand that insurance is a difficult issue for many homeowners. We strive to give you the knowledge you need to make the best insurance decisions for your particular set of circumstances. We are sensitive to the fact that the high cost of insurance can be a burden. We are dedicated to obtaining sufficient coverage for our you without any unnecessary expense.
Unlike many agencies, all our staff and agents work for a salary. We do not work for commission. We have found this makes for a better situation for all concerned. Having a regular salary and not worrying about commissions, our agents are free to focus on the customer's needs. Every customer receives the same service, whether their property is a weekend get-a-way bungalow or a full fledged dream home with all the amenities.
At the end of the day we ask ourselves these questions:
Have I been honest?
Have I been thorough?
Have I treated my you like family
These are the values by which we measure ourselves. While we realize we cannot solve every difficulty involved with insurance, we can commit ourselves to doing our best for our you in our little corner of the world.